WordPress Password Protect Page or Post
3 Steps: WordPress Password Protect Page
In WordPress password protect page by changing a few publishing settings.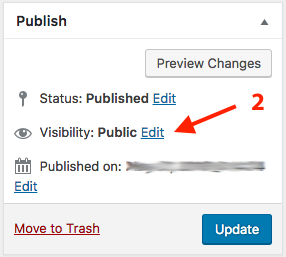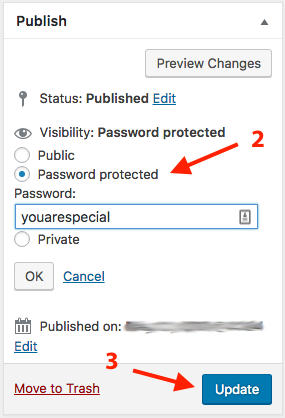 Login to the admin and edit the page or post that you would like to password protect.
You will see a "Publish" meta box on the right column. The Visibility setting it "Public" by default. Click on that "edit" link and change that setting to "Password protected" and enter a password in the text field that appears.
Click the Update button below and now your page or post is password protected.
Pros
You can protect the content of specific pages of your site quickly and easily.
Use this method to entice visitors to signup for your newsletter to gain access to this particular content.
All pages using that same password will not require you to input the password again.
Cons
If the page has any children pages, then you will have to password protect each page with the same password. Otherwise, the children will be public as well.
If you decide to change the password for a parent page, then you will have to change the password for all the children pages using that password. This is only a hassle if you have a lot of protected pages to manage.
Things to Expect When Password Protecting Pages
If you have a lot of pages to protect from the public, it might be easier to allow users to create an account and login.
Password protecting a page is not considered "secure." This is more of a roadblock to keep people from easily accessing the content without performing some task before hand (such as signing up for a newsletter).
Since this is not secure content, you do not have to worry about creating strong password using the WordPress Password Generator. Just make the password something simple that is easy to remember.
People will probably share this password with other people. Expect it. If this is a concern, then you should place this particular content behind a paid wall that requires user authentication.